It's DIYF! (Do-It-Yourself Friday!)
NYC is wet and windy today, and according to the forecast, more nasty weather is expected for tomorrow. A perfect reason to stay in and get crafty with some jewelry. I recently made these bangles for a friend, and she loved them. I had so much fun doing it I wanted to share the idea.
I started by purchasing bangles with a crochet overlay. Any fabric exterior would work, as long as the bangles are wide enough -- flimsy ones won't be able to handle the weight of the buttons.
I then purchased matching thread and various buttons in colors I thought my friend would fancy (muted metals and blues). Thread in the same color of the bangle is important so the stiching doesn't show, and it won't look as obvious if your sewing skills are a little messy.
My last step was stitching each button securely on the top half of the bangles.
Several hours later, I was done. Simple as that!
Tip: To cut down on your crafting time, don't stitch each button separately. With one long thread you can attach several buttons. (I figured this out a little late!). The only downside to this shortcut is you can't go back and snip off just one button if you don't like its placement. However, it is a huge time-saver.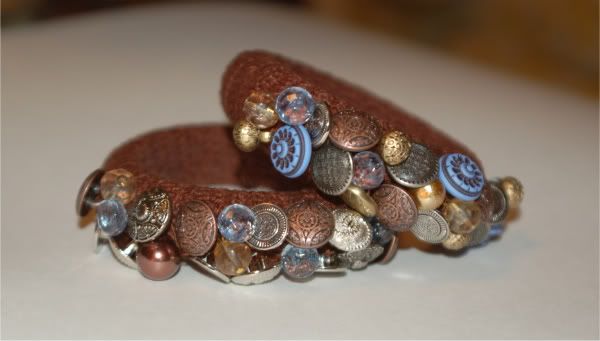 Voila! A handmade bangle brigade!