I've always been a fan of Kenneth Jay Lane jewelry. I mean, really, how could any self-proclaimed accessory junkie not be in love with this line?
After sitting down with Mr. Lane, I'm now a fan of the man behind the empire, too.
I thought my interview may have started off on the wrong foot when his answer to my first question was, "Haven't you read my book?" To which, I rather sheepishly responded, "Ummm, no..." Thankfully, he wasn't offended. 

He actually asked his public relations manager to bring me a copy. And the next thing I knew -- he was signing it. A true gentleman!

Accessory Source:
How many years have you been in business?
Kenneth Jay Lane:
Close to 50.
AS
:
What made you want to design women's jewelry?

KJL
:
I had to do something. I designed jeweled shoes for Arnold Scaasi. I made jeweled buttons, earrings and bracelets to match the shoes, and that's how it all started.
AS:
How many of the same trends in the company's 50 years have you seen repeat?

KJL:
We have pieces that we've sold for 40 years. Some we've revived or invented different closures for. (both below)
AS:
Do you refer back to old pieces? Do you have a library?

KJL:
We keep almost everything, everything is numbered. I take a little of one thing and add it to something else. I design very well with a copy machine, scissors, Wite-Out and tape.
AS
:
Are you ever excited when a celebrity is wearing one of your pieces?

KJL:
In retrospect, Jackie Kennedy. She would wear a pair of earrings that she got from me when she was still in the White House. But I get most excited when I see a woman on the street that I don't know wearing it.
AS:
Do you have any advice for women on how they should wear their jewelry?

KJL:
Don't be afraid of costume. Six strands of real pearls is showing off, but simulated jewelry -- it's fashion.
AS:
Is there such a thing as too much?
KJL:
Think of it as if it were diamonds. Would it be too much? No.
AS
:
Do your female loves ones have large jewelry boxes filled with Kenneth Jay Lane?

KJL:
Some have closets full.
As we walked around the showroom, we came to a drawer that was full of broaches, Mr. Lane uttered my favorite quote of the day. Perhaps my favorite quote about fashion.

KJL:
Women don't wear broaches anymore -- ladies do.

He continued to say, "Stores don't by them as much, but they are the perfect gift because they fit everyone and you don't need to know their size."
KJL:
This octopus I designed purely for my own amusement, and it's sold very well.

I do too -- in jewelry design -- and this necklace is sinful!

KJL:
The crystal elements that are not Swarovski are specially made in Germany. (below)

Before I walked away from Mr. Lane and ventured on to the rest of the showroom, he said to me, "The most important thing, is that I still love what I do."

Must be the secret to his success!

This is the warehouse, where all the magic happens.

A jeweler glues stones onto a bracelet. Her tool of choice? A toothpick, for precision.

Beads being strung on thread.

Chain being measured and cut.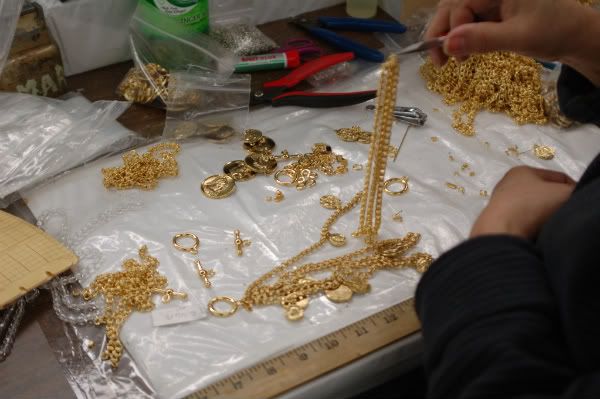 This room is a library of jewels where editors go to select pieces and where orders are filled. I wish this was my personal jewelry closet.

There are hundreds of numbered drawers filled with baubles.

Of course, I had to try some stuff on!

While many retailers carry Kenneth Jay Lane, there is only one flagship store located in
The Plaza Hotel
. I highly recommend a visit. Trust me, it's a jewelry paradise.

When I got home I read Mr. Lane's inscription:

Be careful and don't open the box.
Ha! I laughed out loud. The perfect end to a day.