There's no excuse for my lack of posts this week, but I've been very busy. I apologize dearly.
Over the years, bangles have become a staple in my arsenal of accessories. Because they're constantly being reinvented, I have drawers full of them crafted from various materials, like wood, Lucite, plastic, metal, Bakelite, etc...

While I've been M.I.A., I came across these bangles from 
The Accessory Lady.
 Handmade with a yarn blend of mohair and cotton, they're a perfect addition to your wooly winter wardrobe!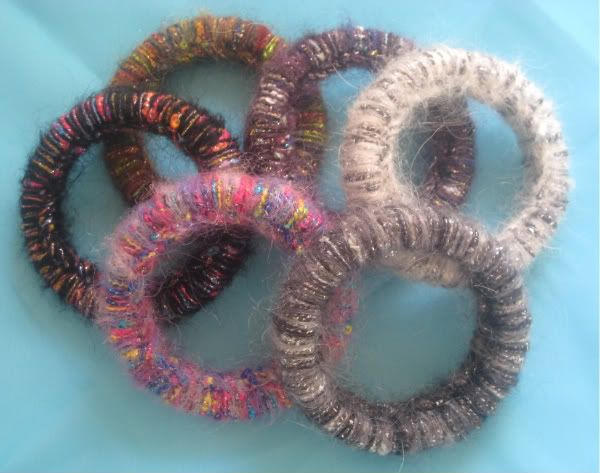 I'd also like to take the time to thank Carly from Chic Steals for the Beautiful Blogger award. Carly's blog is chuck full of great fashion, and the award means a lot coming from her.
With the honor, I'm required to list 7 factoids about myself -- here you go!

1.
Clothing was my first love, accessories came later.
2.
I'm named after my grandmother. 
3.
Molly Ringwald was my style icon as a young girl.
4.
I live for road trips.
5.
Twizzlers are my favorite candy.
6.
I'm currently obsessed with
Mad Men
.
7.
When I was in kindergarten, I didn't know my ABC's so I copied them off the girl next to me. Along with the ABC's, I also copied her name. Ha! I saved the best one for last!
I'd like to pass the award onto: